Covid-19 Guidelines
In response to the COVID-19 health crisis, our focus continues to be helping our clients run their businesses in a safe environment.
At this time, the health and wellbeing of our clients, their visitors, and our staff is paramount, and we have put a number of measures in place to ensure that returning to Westmead House is as safe as possible for all concerned.
A safer working environment
We have undertaken a Risk Assessment in line with the COVID-19 Secure guidelines issued by HM Government and, as a result have put a number of measures in place to ensure a safe working environment. You can find out more here.
We have applied the following temporary guidelines and procedures to the property which we ask you to respectfully follow:
Visitors
Visitors to the House are by prior appointment and during normal working hours (9am-5:30pm). Your host will have informed the reception team of your arrival in advance to assist us with managing the flow of people.
Access is by the main front door only. All visitors are to report to the front desk on arrival and use the Hand Sanitiser before recording their name and who they are visiting on the e-reception sign in. Social distancing should be observed at all times.
Guest arrival will be advised to the host who will come to greet you. Whilst in the building, visitors must follow the rules of the House, in particular, good hand hygiene and social distancing.
Deliveries
Enter via automatic doors and follow the visual instructions, i.e. sanitise your hands and stand behind the marker line, then wait for a team member to come and direct you where to place the delivery.
Please note parcels will not be signed for but a name will be given to confirm receipt. Parcels are to be left in the front lobby area of Westmead House and clients will be notified of deliveries by telephone or email.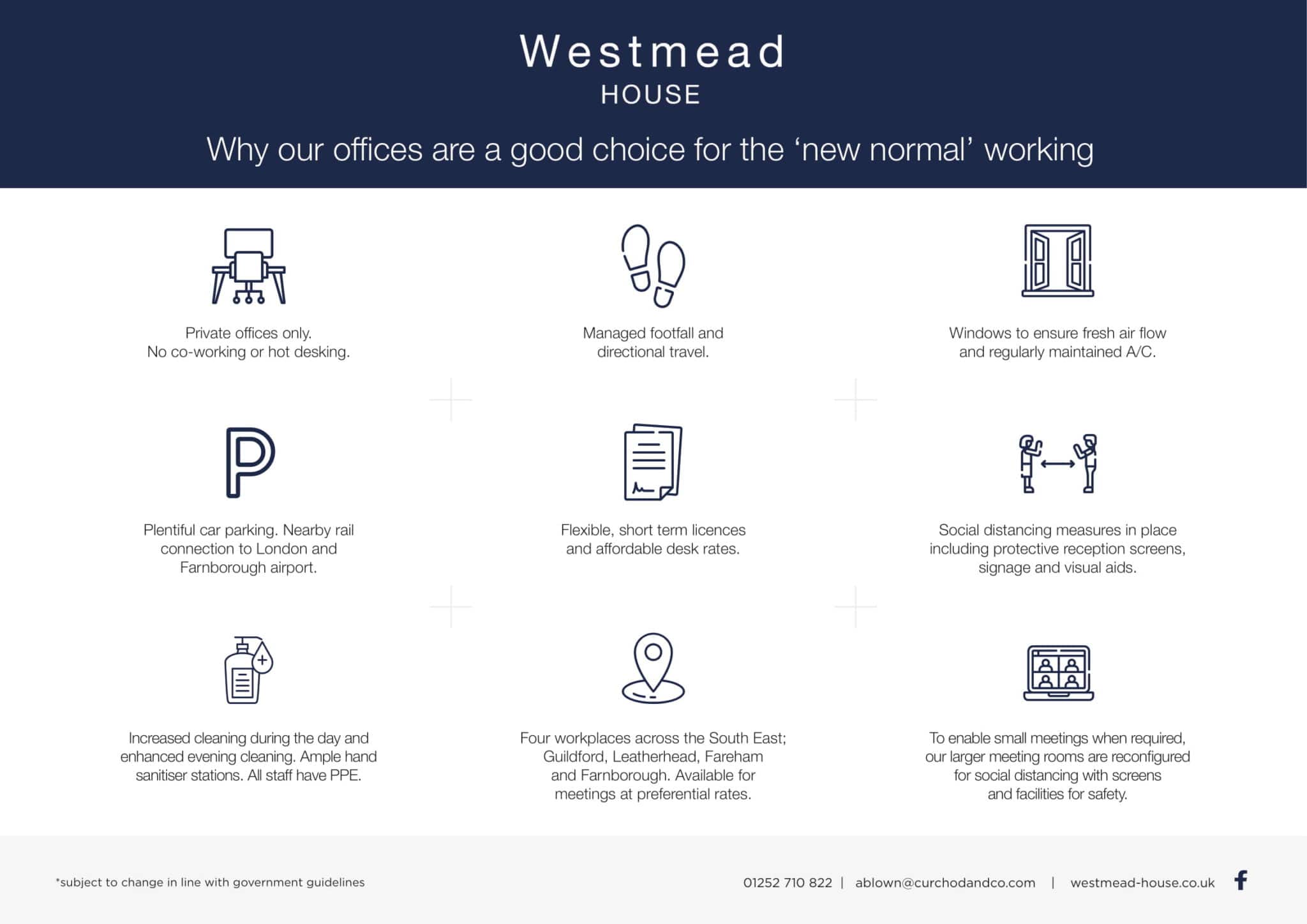 Westmead House offers high quality offices to let in Farnborough